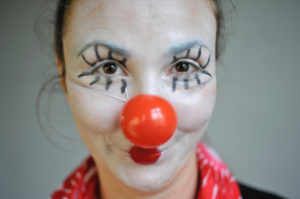 Lisa Starostina was born in the city of Novokuybyshevsk on the Volga River and first learned the piano at the Musical College in Samara. She then studied at the Saratov City Conservatory and graduated with a diploma as a solo pianist, a chamber musician and a piano teacher. During her studies Lisa developed great interest in acting, music theatre and dance. She attended various master classes, among others with the actor and choreographer Alexey Zykov.
After her graduation Lisa decided to go abroad. She worked as a piano player in the South Korean city of Busan for a year, before moving to Moscow in 2010. In the Russian capital Lisa started to work with children in a state music school. It resulted in great success, and she has participated in the numerous festivals, concerts and competitions with these children. Additionally Lisa also played various roles as a piano accompanist and a chamber musician. Together with Ekaterina Bakulina she created a piano duet, which received a nomination by the Moscow Philharmonic Orchestra for their concert series in 2014.
Furthermore Lisa played in theatrical productions of the Russian Academic Youth Theatre 'RAMT' with renowned actors such as Natalya Chernyavskaya and Ramilya Iskander. Lisa moved to Berlin in 2014, where she now lives with her family and works as a freelance pianist.